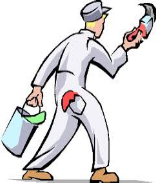 Home
Services
Commercial
Residential
Landlords
Maintenance
Intumescent
Contact
From exterior house painting and domestic decorating to fire protection Intumesent spraying and painting and much more. We do it all. Serving Gloucester and the south west of England
Telephone 01452 501221
Mobile 07966516350
Email contracts@holmleighdecoratorsltd.co.uk
Specialist with over 40 years of experience providing professional painting and decorating services


Painting and Decorating services to homes, businesses, commercial properties and rented accommodation Gloucester











Give Your Business A Fresh Look
Quality Commercial painting and decorating services carried out by our own painters and decorators competitively priced and completed on schedule - everything a commercial client needs.
We offer a highly flexible service and work in all types on environment. We undertake commercial and industrial projects ranging from small shops, units or offices to hotels, prisons, hospitals, factories and warehouses across the South West.
Our range of commercial painting and decorating services includes;
Interior and exterior painting

Wallcoverings including wide width

Spray painting

Fire retardant paint

Repairs and maintenance

New build

Refurbishments

Pro-active project management
The appearance of the interior commercial property is just as important as the exterior appearance of your business !!.
If you regularly have clients in your office, it is of the utmost importance to have a clean and professional looking environment , Simply applying a fresh coat of paint can completely change the way your office looks .
It is very important to maintain a professional work environment for your employees !!.
If the walls of your office, retail unit are dull and cracking, this might inspire a less than professional attitude with your staff,They may also work much less efficiently.
When potential new customers are concerned, nothing is more important than the image you project to the public.
If your building looks dull on the outside and neglected on the inside and dated, potential customers might assume that you take the same approach to your services. However, if you operate a fresh and bright commercial building, customers will likely associate your services as such. This is why many of our commercial contracts focus on both the interior and exterior of the building. A fresh coat of paint provided by Holmleigh Decorators can improve the welcoming atmosphere of your commercial property and encourage customers to enter feeling confident and secure. When considering the exterior of your commercial property, never underestimate the power of paint
We can work to clients' Schedule of Works and Schedules of Dilapidations.A high quality and professional service is essential to us and we are careful to employ fully qualified and well experienced decorators many of whom have worked with us for years. As members of the Painters and Decorators Association and a recognised Contractor you can be assured of the highest standards in work, safety and service.
Free quotations are available following site visits or from scaled plans. Contact us for a site visit and quotation.
Commercial Painting and Decorating Services Gloucester
Keeping your business premises in good condition is vital, whether it's to present an appealing image to potential customers, or provide a vibrant, productive environment for your employees to work in.


Commercial Decorating
Retail

Sports and Leisure

Industrial

Offices
Have a more productive, happier office
Work patterns customised to fit the needs of your business
Give visiting clients a great first impression
Increase sales with a great retail environment
No payment until completion of the job
Redecorate your premises without losing business